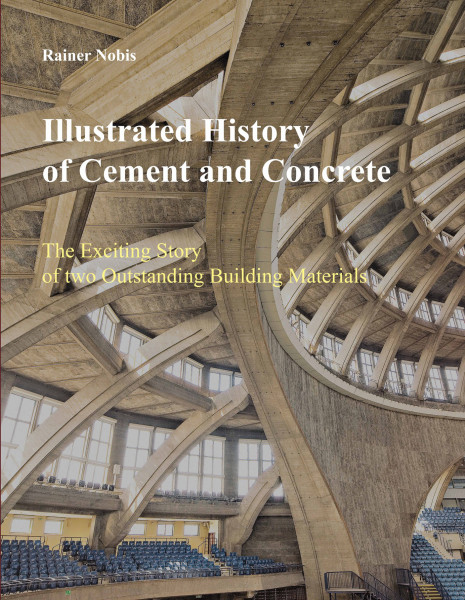 Author: Dipl.-Ing. Rainer Nobis
ISBN 978-3-9822548-1-4
"Illustrated History of Cement and Concrete"
The exciting development of two outstanding building materials
Concrete—with numerous application and design possibilities—is an invaluable source of inspiration for civil engineers and architects. It can be found in both civil and structural engineering projects as it is inexpensive and can be applied with high efficiency. However, without cement, neither mortar nor concrete—both used in very large volumes in modern construction—can be produced. How did it come that cement and concrete are so closely intertwined with our prosperity, our way of life and mobility?
This book with over 300 pages and more than 700 mostly coloured illustrations is the first to comprehensively describe the history of cement and concrete and their historical development in an easily readable form. Starting with the first signs of artificially produced building materials more than 12,000 years ago, development and uses of new binders by the Chinese, ancient Greeks and Romans, spanning from England and Continental Europe to the New World and finally the present are illustrated.
Not only a comprehensive overview of the technical and historical sequence of individual events is provided, but the political and economic environments of the times are described. Furthermore, the people who made a particular theoretical or practical contribution to the development and application of cement and concrete are also introduced.
Through the combination of text and pictures, the book is colourful, interesting, highly instructive and at the same time exciting—all in an easily understandable form.
The book is aimed at all those who work with the building materials cement and concrete, be it in the construction or building materials industry, including civil and structural engineers, architects, teachers, students as well as interested laypersons.
excluding Shipping
Ready to ship today,
Delivery time 5 days to 2 weeks depending on destination
Order number:

B10002

Format:

format 23 x 30 cm

Paper:

high quality photo paper

If you are interested in more examples of the book, please contact us. We gladly will offer you a discount.

history.cement@gmx.com
Reading sample: